A camping trip, traveling around the world, for you canine co-pilot or for some good quality time with your family: the options are endless with an Ural sidecar!
For more than 75 years, Ural has been the world leader in motorcycle sidecars. Motorcycle enthusiasts around the world continue to trust Ural products to this day.
Each car comes with a 2-year manufacturer's warranty with unlimited mileage, with the option to purchase an extension.
Ural has had a complete overhaul of the engine heads and injection system for maximum efficiency.
Meets EURO-5 standards.
Models
CT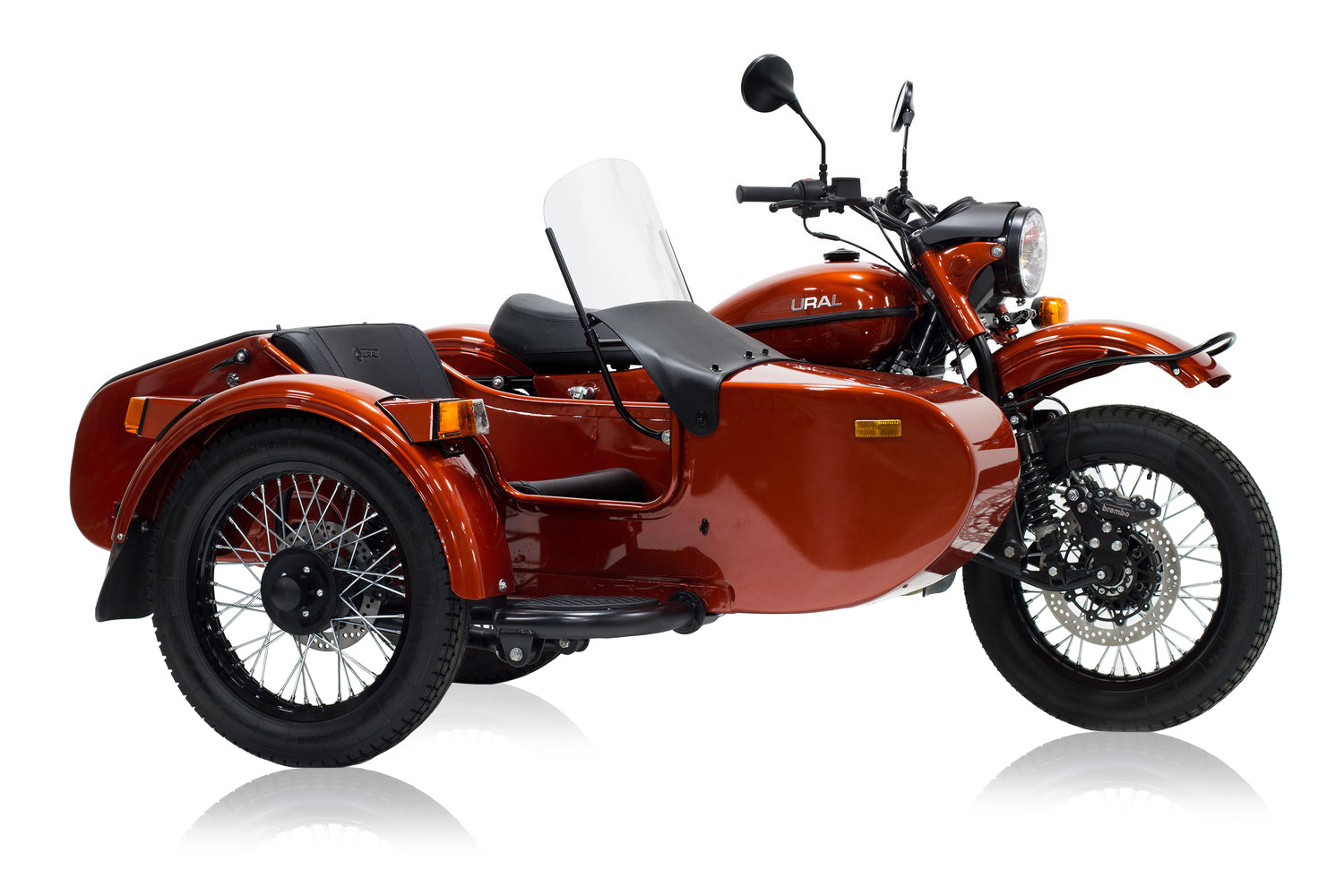 The 2020 Ural CT is a functional, efficient and affordable sidecar with a modern and urban style. We want one for:
Its powerful 749 cc engine that allows it to cruise at up to 115 km/h
Its 4-speed transmission with a pedal-activated reverse gear
Its large lockable and waterproof side box
Its 18.9 l (5 gallon) tank
A maximum load of 1,325 lb.
Gear Up
The Ural Gear Up lives up to its name, because it is definitely the bike for any true adventurer! We love it for:
Its traction selector, allowing you to switch from one to two wheel drive by engaging the sidecar wheel.
Its LED fog lights on the side of the sidecar
Its powerful 749 cc engine allows to navigate up to 115 km/h
Its 18.9 l (5 gallon) tank
A maximum load of 1,325 lb.
Several special editions are also available. On the other hand, models of these kinds of editions are very rare with some of them at only 80 copies in the world! If you come across one of these models, don't hesitate!
Electric Concept
Ural is still at the beginning of the first phase of its electric turn, with an all-new prototype all-electric sidecar motorcycle in its sights.
The electric prototype was built on the existing frame of a single-wheel-drive CT sidecar motorcycle using the Zero Motorcycles powertrain (motor, batteries, controller and other components). California-based ICG was responsible for developing the overall design and manufacturing the initial prototype. Zero Motorcycles also provided technical support during the development and testing of the prototype that made this project possible.
With no guaranteed availability date, you can join the waiting list for a Ural electric vehicle now.
Goulet Moto Sport is the only Ural sidecar dealer in Quebec. Stop by our dealership in Sainte-Thérèse, it's most definitely worth the detour! Give us a call before you drive all the way to our dealer. Our thoughtful team will happily identify your needs and answer to them.